European (INSPIRE)
The INSPIRE Directive(Infrastructure for Spatial Information in Europe) specify general rules for the establishment of a European Spatial Data Infrastructure (SDI) based on member states SDIs. It was approved by the European Parliament and the Council on March 14th 2007 (Directive 2007/2/CE).
The Directive 2007/2/CE has been developed in collaboration with the Member States, and countries in process of accession, with the aim of making relevant and good quality geographic information available, this way allow the formulation, implementation, monitoring and evaluation of European policies.
INSPIRE is transposed to the Spanish law through (LISIGE)14/2010, 5th of July, about infrastructures and services of geographical information in Spain. The High Geographic Council is the point of contact of Spain for the development of the INSPIRE Directive with the European Commission.
In order to ensure the compatibility and interoperability of the SDIs of the EU Member States in a European and transborder context, INSPIRE demands to apply the specific Implementing Rules for the following areas: metadata, spatial dataset, net services, spatial data services, sharing-use data and services, and Monitoring and Reporting. These Rules are considered Decisions and Regulations , which are mandatory in each Member State of the European Union. The technical implementation of these rules is conducted through Technical Guidelines, based on international rules and standards.
Ver cronograma de documentos: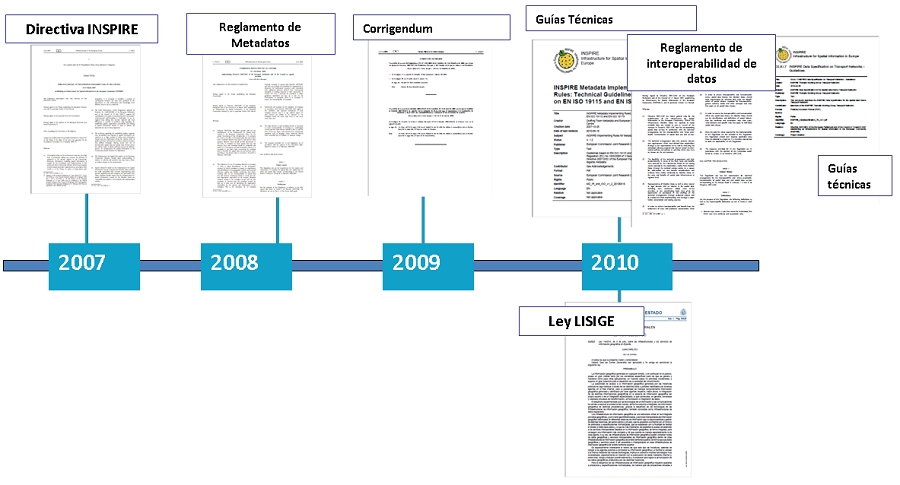 Reglamentos
La Directiva INSPIRE se aplica en diferentes etapas hasta el 2021 que deberá tener aplicación plena. La hoja de ruta establece las fechas límite para la implementación de los Reglamentos en cada una estas etapas.
Informe sobre el alcance de la Directiva Inspire y su incumplimiento

Resume en primer lugar el alcance de la Directiva Inspire, de la Ley española que la traspone (LISIGE) y de los Reglamentos europeos que la implementan (a qué obligan, a quiénes y en qué plazos), y en segundo lugar sobre los mecanismos coercitivos de que dispone la Unión Europea para garantizar su cumplimiento e implementación. Asimismo, incluye información sobre los mecanismos y procedimiento de que dispone el Estado español para repercutir una penalización económica impuesta a España en un ámbito gubernamental concreto, como puede ser una comunidad atónoma, una diputación provincial o un municipio.
Enlaces directos
| | |
| --- | --- |
| Portal Inspire | Ofrece los documentos legales y guías técnicas necesarios para la implementación de la Directiva en los Estados miembros. A través de este portal se accede a la Conferencia Europea Inspire, cuyas ediciones anuales se recopilan en esta web y en las que se abordan cuestiones de política común e investigación en desarrollos e implementaciones IDE. |
| Geoportal Inspire | Permite localizar la información espacial de los Estados Miembros y validar los servicios web y los metadatos. Gestionado por la Comisión Europea. |
| Registro Inspire | Punto de acceso central a cierto número de registros Inspire gestionados de manera centralizada. El contenido de tales registros está basado en la Directiva Inspire, los Reglamentos y las Directrices Técnicas. |
| Foro Inspire | Lugar de encuentro e intercambio de información para que los profesionales de diferentes países y áreas temáticas compartan conocimientos y opiniones sobre cuestiones relativas a la iniciativa Inspire y su puesta en práctica. |
| Plataforma INSPIRE Thematic Clusters | Evolución del Foro Inspire y sirve como punto de entrada para que todo tipo de actores relacionados con la implementación de la Directiva puedan en cada dominio temático compartir experiencias, buenas prácticas, señalar cuestiones pendientes y resolver problemas. |